It's that time of year again…
I have done an NFL mock draft every year since I was 12 years old.  It was my original foray into writing, and it eventually formed the bedrock of what I now call a career (somehow).
While I haven't done my usual preparation, I felt it just wouldn't be right to discontinue a time-honored tradition. So here we go, folks!
It won't contain the detail to which some of you long-standing readers have grown accustomed, but it's not completely clueless so I guess that's something. AND IT HAS GIFS!!
With the first pick in the NFL Draft, the Cleveland Browns select….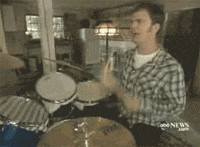 Myles Garrett, edge rusher from Texas A&M! The same pick practically everyone else has prescribed because it's that damn simple. I will not be shook by the 11th-hour hysteria.
Long-suffering fans can only hope the team's management feels the same way.
If not, the entire franchise should be relocated to the recycling bin.
Now on to picks that require actual thought…
NOTE: I am not predicting trades. In a draft this wide open, I'd probably drive myself into madness. I don't plan on purchasing a football, imprinting a face on it, and making it my buddy anytime soon.
2. San Francisco 49ers: Jamal Adams, S, LSU: The 49ers have so many options at this spot and so many needs, but this is probably as good a place to start as any. Adams might not have the ceiling of some other safety prospects, depending on who you talk to, but it'd be pretty damn surprising if he was anything worse than good.
Expected fan reaction:

3. Chicago Bears: Marshon Lattimore, CB, Ohio State:  Bears are sort of in the same position as San Fran. Their roster lacks talent pretty much everywhere, so it's hard to go wrong. Lattimore is easily the best cornerback prospect, and the Bears could use a serious boost to a defense that forced an NFL-low 11 turnovers last year.
Expected fan reaction:

4. Jacksonville Jaguars: Leonard Fournette, RB, LSU: The Jags are an infuriating case. They clearly need to upgrade at quarterback and GM David Caldwell is under high pressure to win, but he seems intent on riding with Blake Bortles, whom he drafted in the top five not even four years ago. I don't find Fournette to be a top-5 talent, not even close really, but it is a need and Fournette's physical prowess seems to be held in high regard. I don't find it to be a good pick, but I can't deny the fit.
Expected fan reaction: 

5. Tennessee Titans (from L.A. Rams): Jonathan Allen, DL, Alabama: I am about 96.4 percent confident GM Jon Robinson is going to swindle some team hunting for top QB Mitchell Trubisky, but if he does stand pat, adding a wrecking ball like Allen could be what brings the defensive up another tier in Nashville.
Expected fan reaction: 

6. New York Jets: Mitchell Trubisky, QB, North Carolina: Looking at the Jets roster as it is actually makes me cringe. It might be the worst in the league. I could think of six or seven better picks here, but it's a quarterback-driven league. Trubisky is talented, so he might have a chance, but I can't make this pick in good conscience.
Expected fan reaction: 

7. Los Angeles Chargers: Reuben Foster, LB, Alabama: Foster is not without his personal issues, but past transgressions by NFL teams lead me to believe it won't make much of a difference. The Chargers have some nice building blocks already in Joey Bosa, Melvin Ingram and Jason Verrett. Adding another one in Foster, a bonafide star at the position, will put that unit on the fast track toward success.
Expected fan reaction: 

8. Carolina Panthers: Christian McCaffrey, RB, Stanford: GM David Gettleman is a hard one to pinpoint. He makes some strange decisions in both free agency (hello, Matt Kalil's bloated contract) and the draft. McCaffrey is a straight-up weapon, and pairing him with Cam Newton in the backfield would make a lot of teams very nervous.
Expected fan reaction: 

9. Cincinnati Bengals: Solomon Thomas, DL, Stanford: The Cardinal produce back-to-back picks here with the Bengals jumping on Thomas, who has the look of a tweener but shows some nasty pass-rushing ability. The Bengals defense took a turn for the worst last season, and it desperately needs someone on the edge to pair with All-Pro three-technique Geno Atkins.
Expected fan reaction: 

10. Buffalo Bills: Malik Hooker, S, Ohio State: The Bills secondary is in flux after the past couple of seasons have seen multiple players depart. They signed Micah Hyde, which should help stymie the bleeding, but don't expect him to be a full-time safety. Jordan Poyer being the team's safety net shouldn't inspire confidence. Hooker could better fill that even though he still has developing to do, as his instincts are top-tier.
Expected fan reaction: 

11. New Orleans Saints: Charles Harris, EDGE, Missouri: The Saints' seemingly constant re-tooling of their defense continues this year. Cam Jordan – a Mizzou product himself – is a constant threat on one side of the defensive line, but he could use a running mate. Harris has work to do in the run game, but his pass rushing is developed enough to make an immediate impact.
Expected fan reaction: 

12. Cleveland Browns (from Philadelphia): O.J. Howard, TE, Alabama: I should probably be thinking in a more "Brownsian" state of mind, but it'd be hard to see passing up on a guy like Howard. He's quite possibly the most talented tight end prospect in the past decade, and he'd further add to a burgeoning offensive supporting cast. The Browns could easily add a QB like many expect, or they could add two elite talents. Their call.
Expected fan reaction: 

13. Arizona Cardinals: Patrick Mahomes, QB, Texas Tech: Carson Palmer is 37-years-old and showed signs of decline last season. The Cardinals have other needs, especially on defense, but will they feel comfortable passing up Mahomes? A chaotic but talented signal caller who fits the Bruce Arians mold?
Expected fan reaction: 

14. Philadelphia Eagles (from Minnesota): Dalvin Cook, RB, Florida State: The Eagles made over their receiving corps this offseason, and it wouldn't be surprising to see them taker further steps to improve upon it with all of the top receivers sitting on the board. But the team has seemed to take an interest in Cook, an explosive runner. Putting that kind of threat behind franchise QB Carson Wentz could set the team up nicely for the next half-decade or so.
Expected fan reaction: 

15. Indianapolis Colts: Haason Reddick, EDGE, Temple: Former GM Ryan Grigson trashed Indy's roster, and new GM Chris Ballard has been tasked with cleaning it up. Picking Reddick would be a strong way to start the new era, as the ultra-athletic edge rusher could give the team's defense a much-needed shot in the arm.
Expected fan reaction: 

16. Baltimore Ravens: Corey Davis, WR, Western Michigan: When Mike Wallace is your No. 1 target in the passing game, changes have to be made. Joe Flacco can't be elite forever, so GM Ozzie Newsome would be wise to surround him with better talent. It doesn't get much better than Davis, who combines a polished skill set with an NFL-ready frame.
Expected fan reaction: 
17. Washington Redskins: Malik McDowell, DL, Michigan State: Washington desperately needs help upfront after losing Chris Baker in free agency. McDowell has work ethic and behavioral concerns, but his tools are scary good. The staff will have to coach him up and keep him motivated. If they can do that, he could replace and improve upon that lost production.
Expected fan reaction: 
18. Tennessee Titans: John Ross, WR, Washington: Marcus Mariota has been everything the Titans could've hoped for and more. The franchise must make it a point to build his supporting cast, and Ross would be an excellent addition. He's disgustingly fast, and having his ability to take the top off of defenses will help his teammates and allow Mariota to make use his sneaky good downfield throwing skills.
Expected fan reaction: 

19. Tampa Bay Buccaneers: Budda Baker, DB, Washington: The Bucs have done a good job building up their defense after being historically bad just a few seasons ago. The rebuild continues this year, and Baker could be a disruptive presence in the secondary. He's undersized (about 5-foot-10), but he excels at basically every aspect of the safety position. He can cover, blitz, tackle, you name it. Whether they pick him here or trade down and do it, this feels like a match made in heaven.
Expected fan reaction: 

20. Denver Broncos: Ryan Ramczyk, OT, Wisconsin: The Broncos were undone last season by poor offensive line play. Tyler Sambrailo has panned out horribly, so John Elway has to work quickly to resolve the issue.  No school produces better offensive linemen than Wisconsin, and Ramczyk should be live up to the reputation.
Expected fan reaction: 

21. Detroit Lions: Mike Williams, WR, Clemson: The last time Detroit drafted a Mike Williams, it didn't go so well. But the team shouldn't be thrown off by a name. This Mike Williams, with his excellent ball skills and ability to work all three levels of the field, would join Golden Tate and Marvin Jones to form a strong corps for QB Matthew Stafford.
Expected fan reaction: 

22. Miami Dolphins: Forrest Lamp, OL, Western Kentucky: The Dolphins seem more committed to protecting franchise QB Ryan Tannehill, as last year's selection Laremy Tunsil would indicate. That trend should continue this year, as the guard play was underwhelming last season. Lamp, in addition to have an awesome last name, reminds me of Ali Marpet from a couple years ago. Marpet is excelling in Tampa now, and Lamp could easily follow a similar path.
Expected fan reaction: 

23. New York Giants: David Njoku, TE, Miami: The Giants are building an excellent array of offensive weaponry, both for current QB Eli Manning and his successor. Njoku would further aid that cause, as he carries elite potential. If he develops the technique to go with his immense physical prowess, watch out.
Expected fan reaction: 

24. Oakland Raiders: Chidobe Awuzie, CB, Colorado: One glaring weakness the Raiders had last season was a leaky secondary, as high-priced free agent Sean Smith failed to live up to expectations and David Amerson came back down to earth after a nice 2015 campaign. Even if those two can rebound, the unit needs more support if the team as a whole hopes to take the next step. Awuzie is a strong man-cover corner with the ability to bounce outside or inside.
Expected fan reaction: 

25. Houston Texans: Cam Robinson, OT, Alabama: After losing starting right tackle Derek Newton, the line struggled. While the short-term need is strong, long-term is also a concern as left tackle Duane Brown gets older. Robinson is an imposing physical specimen who already excels in the run game. Starting him off at right tackle will provide immediate help while simultaneously grooming him for a possible role on the blind side.
Expected fan reaction:

26. Seattle Seahawks: Garett Bolles, OT, Utah: As it turns out, playing converted basketball players like George Fant at left tackle against NFL competition is a horrendous idea. Now that Seattle has learned its lesson, it can invest properly in a position that's absolutely vital to protecting franchise QB Russell Wilson. Seattle seems to be very interested in Bolles, and for good reason. Bolles, who has completely turned his life around, might not be a drastic immediate upgrade, but he's an elite athlete with sky-high potential.
Expected fan reaction: 

27. Kansas City Chiefs: Jarrad Davis, LB, Florida: Derrick Johnson has been fantastic for the last decade in Kansas City, but another serious injury puts the 34-year-old's career in its twilight. Davis might not be a perfect fit as an inside linebacker, but he's an athletic tackling machine and Bob Sutton will find a good way to utilize him.
Expected fan reaction: 

28. Dallas Cowboys: Adoree' Jackson, CB, USC: The Cowboys have built a young, dangerous offensive unit. Now they just need the defense to go with it. Jackson is small both in terms of height and arm length, but he's shown substantial improvement in coverage and has electrifying kick-returning abilities.
Expected fan reaction: 

29. Green Bay Packers: Marlon Humphrey, CB, Alabama: The Packers pass defense could use some reinforcements after losing Sam Shields and utility man Micah Hyde. Humphrey's physical traits are second to none, but technique is definitely a concern. He's a likely boom-or-bust prospect, but he could lead that secondary to greater heights.
Expected fan reaction: 

30. Pittsburgh Steelers: Takkarist McKinley, EDGE, UCLA: I don't know if James Harrison is siphoning the life force from all of the young linebackers that meander into the Steel City, but it's hard to imagine the wily veteran, soon to be 39 years old, keeping it up for much longer. McKinley's constantly revving motor and above average athleticism may give him the basis to be the next great Steelers pass rusher.
Expected fan reaction: 
31. Atlanta Falcons: Derek Barnett, EDGE, Tennessee: Vic Beasley took a much-needed step forward as an edge rusher last year for Atlanta, and Grady Jarrett came on as an interior threat. Why stop there if you're Atlanta? Barnett has elite college production – he broke Reggie White's program sack record – and the traits to back it up. He can add another dimension to the Falcons' quickly improving unit.
Expected fan reaction: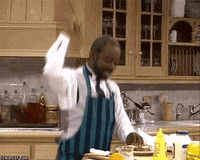 32. New Orleans Saints (from New England): Deshaun Watson, QB, Clemson: Drew Brees has kicked ass for a long time now, but he can't do it forever. While he should have another good year or two left, it's definitely time to look forward to the future, and Watson – who carries some plus traits like pocket presence and  a certain clutch factor – seems like a good candidate to take a chance on at the tail end of the first round. Being able to sit and learn from a guaranteed Hall of Famer would do wonders for the 2017 National Champion.
Expected fan reaction: 
*All gifs courtesy of Giphy