While my passion for scouting players has generally waned as I've gotten older, the week of the NFL Draft still rouses a childlike eagerness within me.
It's still interesting to see how all 32 teams will look to improve, and a mock draft serves as a fun brain exercise to connect the dots on prospects and their best fits.
Sure, you often have to endure the hot takes, the questionable picks and the often-cannibalistic, chest-pounding nature of professional football analysis, but what good doesn't come without a little bad?
Again, I'm emphasizing that this mock is purely for enjoyment purposes. I don't claim to be an expert on any of these guys, so it's not like I have the inside scoop. I'm basing my picks off perceived talent level, draft position and scheme fit, as well as good ole gut feeling.
However, I have made an effort to see most of my listed prospects play to some degree in order ascertain a personal opinion. I'm not really about regurgitating other people's opinion if I don't have to.
This is shaping up to be one of the most unpredictable drafts in recent memory, but despite that fact I've decided to go for broke and project some trades. Why not?
Without further ado, let's dig into it….
---
Cleveland Browns

: Sam Darnold, QB, USC: Personally, I believe the best quarterback in this draft is Baker Mayfield, and I don't find it to be particularly close either. However, the Browns don't seem to hold much interest in the fiery Oklahoma product, so going with a prototype like Darnold seems likely. The 20-year-old definitely has his positives, as he's poised, patient and physically gifted. Like most people, I have concerns about his ridiculously elongated release and how that might play in the significantly faster pro game, and his turnover totals were concerning enough in college. Factoring in his youth, this pick doesn't come without major risk. I'm not confident that Hue Jackson and Co. can mold Darnold into the best version of himself, but they have to try.
New York Giants: Saquon Barkley, RB, Penn State: Based on the moves that David Gettleman made to get himself chased out of North Carolina with proverbial torches and pitchforks, I'm pretty confident that this pick is going to be horribly out of touch with what the Giants need. The brass seems to think they're a couple playmakers and some depth away from completing a quick turnaround and thrusting themselves back into Super Bowl contention. That very notion — no matter how many times I see it mentioned by informed people in the media — contorts my expression into a gnarled stink face. This team has so many holes it resembles a tattered dishrag, and they're trotting out a 37-year-old quarterback who is clearly on the back-nine of his career. I've watched Barkley a lot thanks to being a PA native with no shortage of acquaintances faithful to the Nittany Lion. He deserves a lot of the hype that he has received for his otherworldly playmaking abilities and obnoxious athleticism, and he can definitely help round out New York's offense. However, there are valid concerns about his physicality and vision, which are especially pertinent when the Giants' offensive line resembles a wall that's missing large sections of brick and is mortared together with Colgate toothpaste.
New York Jets: Baker Mayfield, QB, Oklahoma: There is no doubt on the planet that this pick will be a quarterback. To be frank, I applaud the Jets for finally deciding to quit fucking around and make the trade up. Bryce Petty and Christian Hackenberg were very likely destined to be nothing from the start, and they've wasted two years figuring that out the hard way. No matter who they choose, at least they'll be receiving someone with a modicum of throwing talent. Like I said, I'm a Mayfield believer. He has displayed excellent playmaking ability, fluid on-field processing capabilities and superb accuracy. Some detest his swagger and liken him to Johnny Manziel, which seems to be inaccurate based upon quite a few insider reports. Ultimately, I'd rather take a chance on someone like Mayfield rather than Josh Allen, who is completely raw projection.
Cleveland Browns: Bradley Chubb, EDGE, North Carolina State: I've seen lots of mocks, like basically 90 percent of mocks, project a trade in this spot. After taking a while to stew on it, I have a simple question: Why should Cleveland do that? The Browns already own tons of draft capital beyond their two top-5 picks in a strong draft, so why sacrifice the potential of getting two of the most widely heralded prospects around? Chubb is easily the most complete pass rusher in this year's draft, and pairing him with former No. 1 overall pick Myles Garrett and Emmanuel Ogbah gives the Brownies the makings of defensive line that might generate elite production sooner rather than later. Again, I don't know how competent Cleveland's coaching staff is, but this team will have the talent to succeed. If there's another player they adore, they can easily trade back into the first round to select a third time.
TRADE:

Buffalo Bills

(from Denver): Josh Allen, QB, Wyoming: I've seen quite a few well-connected people on Twitter relaying the interest that Allen is generating throughout the league, and I will never understand it. He is the embodiment of a pitfall that countless GMs have fallen into so many times before. I strongly believe that Buffalo has seen a very similar scenario play out not even 15 years ago in J.P. Losman. Allen is a big-armed, big-bodied dude who looks the part. Reports claim he's a hard worker and carries a good attitude, which is always encouraging to hear. However, that does not change the fact that he completed just 56 percent of his throws at Wyoming in a well-designed offense that gave him opportunities to succeed. He also shows sporadic control of his velocity, meaning his touch varies wildly and plays havoc on receivers. He's made excellent throws at times as well and shows solid mechanics. He's not Hackenberg-hopeless, but I would never feel comfortable trading prime assets for him. The trade I'm projecting has the Bills definitely giving up their 12th overall pick, both second-round picks, and most likely other assets.

Indianapolis Colts

: Quenton Nelson, OG, Notre Dame: The Colts, who already acquired a load from the Jets, could make a another trade with a quarterback-needy team and stockpile more top 100 picks. However, this again an argument of quality versus quantity. Consider me in the camp that considers Nelson's quality to be through the damn roof. Andrew Luck has seen his career significantly derailed by terrible protection, and you're telling me that the team should pass up on one of the best offensive line prospects in the last decade? In my opinion, that's a mistake. If Luck does indeed return, he needs to be greeted with a line that can do better than a league-worst 56 sacks allowed in 2017. Not only should Nelson bolster the pass protection, but his mauler attitude should do wonders for a perennially stagnant Colts running attack.
Tampa Bay Buccaneers: Derwin James, S, Florida State: Some might see the Bucs losing out on Barkley, Nelson and Chubb as a huge disappointment, but the truth is that there are still quite a few prospects who can make an immediate, pronounced impact on the franchise. Plenty of national media members have Minkah Fitzpatrick as a popular choice, but that has never settled well with me. I see Fitzpatrick as a solid, if not unspectacular player who isn't going to revolutionize a defense. That's not what top 10 picks are for, as Derwin James has an Eric Berry-like ceiling that the Bucs would be foolish to pass up on. They got their center fielder last year in Justin Evans, and now James can play a robber role and take on the responsibilities that the team wanted T.J. Ward to fulfill last season.
TRADE:

Arizona Cardinals

(from Chicago): Josh Rosen, QB, UCLA: I believe the Cardinals' reported interest in being aggressive on the trade market will come to fruition. It might come sooner than this, but in my scenario the team gets, in my opinion, the second-best quarterback in the draft in Rosen. He easily has the best passing mechanics out of anyone, and that translates into strong accuracy and ball placement.   He's shown that he understands how to go through reads and execute concepts. If the Cardinals are looking for a pro-ready guy who can quickly supplant injury-prone Sam Bradford and inefficient Mike Glennon, he's the guy. Injuries have been a concern for Rosen, too, but the run-heavy offense that new OC Mike McCoy plans to install should help him avoid frequent hits. There are also questions abound about Rosen's motivation and temperament, which I obviously can't comment on. If he can prove those accusations incorrect, Arizona might pick up the steal of the class.
San Francisco 49ers: Roquan Smith, LB, Georgia: The 49ers likely placed linebacker high on the list of priorities even before the Reuben Foster news. Their run defense was not great last year, and it needs to be better in a division with Todd Gurley and David Johnson. Malcolm Smith is not a good WILL linebacker, and Brock Croyle definitely isn't making anybody feel better about the MIKE either. Smith represents the prototype of the new era:  A little undersized, but he's incredibly quick and flies to the ball at all levels of the field. Smith can penetrate behind the line or drop back in coverage, and he's hailed as an incredible leader. The 49ers have the defensive line to open the holes for him, so this pick would definitely help the team continue its swift rebuild.
Oakland Raiders: Tremaine Edmunds, LB, Virginia Tech: Jon Gruden is making his return from a decade-long, self-imposed exodus after owner Mark Davis offered him 100 million reasons to come back. Based on offseason moves, it seems like Gruden is hell-bent on building his team with established veterans, which would indicate that he might want to draft someone with more experience than the 19-year-old Edmunds. However, I think GM Reggie McKenzie should convince him otherwise, as Edmunds is a blank slate with which new defensive coordinator Paul Guenther can mold an All-Pro talent. The latter is a well-respected defensive mind who coached Cincinnati's linebackers under Mike Zimmer a few years ago, so there might be few better places for the young Edmunds to land. The Raiders have needed help at linebacker for a long time, and combined him with Khalil Mack could create a terrifying duo in the front seven.

Miami Dolphins

: Minkah Fitzpatrick, DB, Alabama: This pick might make too much sense for the Dolphins, who have forgone drafting "developed players" in favor of taking on raw talent. That has worked out unevenly in the past few years, so I'm really not sure what to expect from them come Thursday. Either way, Fitzpatrick would make a lot of sense, as he would give Miami a versatile chess piece who can fill multiple roles throughout the secondary. He can primarily line up at deep free safety, as the Dolphins have two players (Reshad Jones, T.J. McDonald) who are more in-the-box types. You can also use him to cover tight ends and even drop into the slot. As I said before, I'm skeptical about the heights he can reach, but I don't see him as anything worse than solid. Miami desperately needs that.

Denver Broncos

(from Buffalo): Denzel Ward, CB, Ohio State: John Elway has not done a good job at drafting in the past few years. Due to those missteps, the onfield product has gradually slipped, so he needs to right the ship. After trading down with the Bills to secure more picks, the Broncos have more freedom to attack the board from a talent perspective and not reach for needs. In this case, they'll receive one of the best players on the board while also filling a newly opened hole. They traded Pro Bowler Aqib Talib to the Rams, so the team could use a talent like Ward to pair with Chris Harris and Bradley Roby. Ward reminds some evaluators of Harris. While he might be a tad undersized, he makes up for it with excellent footwork and balance. If Harris is destined to handle more outside responsibilities, Ward can slide right into the nickel back spot without issue.

Washington Redskins

: Vita Vea, DT, Washington: The Redskins played some absolutely horrid run defense last season, allowing more 130 yards per game on the ground. In a division that boasts Jay Ajayi, Ezekiel Elliott and now possibly Saquon Barkley, that issue must be rectified. The team got a steal in defensive lineman Jonathan Allen last year in the first round, and now they can pair him with the talented Tevita "Vita" Tuliakiono Tuipuloto Mosese Va'hae Faletau Vea. Yes, that is his full birth name. Vea is a dominant run stuffer. He's a 350-pound menace who could drastically alter Washington's front seven. The Redskins aren't always known for making sensible decisions though, so I'm not 100 percent confident in it going down this way. Derrius Guice, Josh Jackson, and even Lamar Jackson are just a few options I could also seeing going in this spot.

Green Bay Packers

: Calvin Ridley, WR, Alabama: Some might see this as a stretch, but let's take a deeper look into Green Bay's receiving corps. Davante Adams has come along well in the past couple seasons, emerging as a top-15 receiver. Beyond him though, there are serious question marks. Randall Cobb, the No. 2 option, is being paid an awful lot (8.6 million) for a dude who has totaled just over 1,200 yards and eight touchdowns throughout the last two years. He's also in the last year of his contract. Green Bay signed Jimmy Graham, but he's 31 going on 32. And I don't think Geronimo Allison is striking fear into the hearts of anyone. Aaron Rodgers needs good weapons to make the Pack dangerous again. Yes they have other big needs, but the team's overall success starts and stops with No. 12. If you have the opportunity to add the best wideout in the draft, you should take it if you're new GM Brian Gutekunst. Ridley is an excellent route runner and has plus speed. If he can sure up his dropping issue (He had 20 in three seasons), this pick is a slam dunk.

Chicago Bears

(from Arizona): Will Hernandez, OG, UTEP: The trade with Arizona gives GM Ryan Pace more ammo to use on the second day of the draft while still getting an excellent player in Hernandez at pick No. 15. The Bears would be wise to continue their rebuild around second-year franchise QB Mitchell Trubisky, and that should extend to the offensive line. Bradley Sowell is currently penciled in to be the starting left guard and that's no good. Hernandez should be rated a lot higher on other people's boards, as it took me only two games to see that this dude is a straight-up beast. He's thick, has a great stance and goes after dudes from whistle to whistle. He is a tone-setter. While he might be smaller than average in terms of height and arm length,  the other plus factors in his game should allow him to excel. With this addition, the Bears project to be nothing less than solid at every position on the offense, and that bodes well for future success.
TRADE: 

New England Patriots

(from Baltimore): Marcus Davenport, DE, UTSA: Bill Belichick does not often make moves up the draft board, but this year might spark a change of pace. Yes, New England reached the Super Bowl and made it seem like business as usual, but this team is  flawed at multiple positions. It just wasn't as obvious because they have arguably the best QB-HC combo in NFL history and the AFC is full of cupcakes. Outside of Trey Flowers, however, this team struggled to pressure the opposing signal caller more often than not, and that needs to change if they want to win at least one more championship before Tom Brady is gone. Jacksonville has firmly ascended, Pittsburgh is still dangerous and other AFC teams are making moves as well. Davenport is raw, but demonstrates considerable physical talent and flashes of technical skill. Facing down both a class largely devoid of top pass rushers and a glut of needy teams picking ahead of them, the Patriots use some of their spare capital to swap with Baltimore while hanging on to the 31st overall pick.

 

Los Angeles Chargers

: Leighton Vander Esch, LB, Boise State: The Chargers surprised last season with a solid 9-7 record, barely missing out on the playoffs. The team returns a lot of talent and, most importantly, quarterback Philip Rivers. As a near 37-year-old, however, Rivers' time as an elite player at the position is dwindling. Lamar Jackson is a fun, surprise option here, but the team is too close to contention to dabble in the future. The defense needs to improve to match other AFC powers, as run-stopping in particular proved difficult for the Bolts in 2017 (second to last). Vander Esch can be paired with Denzel Perryman to form a dynamic duo in the heart of L.A.'s front seven. The Boise State product is already adept in coverage, as he has fluid hips, sideline-to-sideline range and excellent pop. As long as the rest of the defense can remain healthy, which has proven problematic in the past, Vander Esch could be a piece that helps make them a top-15 unit in the league.
TRADE: 

Carolina Panthers

(from Seattle): Josh Jackson, CB, Iowa: The Panthers sport a glaring hole at outside corner after Bashaud Breeland failed his physical. They also traded away Daryl Worley, so James Bradberry is going to need some help in the secondary. Josh Jackson reminds NFL draft analyst Lance Zierlein of former Panther Josh Norman, and I'm inclined to believe him after watching a couple cutups. Jackson displays a excellent feel for the position, as he takes calculated risks and shows strong ball skills, which is evidenced by his ridiculous 27 pass breakups and eight interceptions in his final, and only, starting season with Iowa. He is indeed a one-year wonder, but I'd feel comfortable taking a chance and seeing if you can develop another top-tier cornerback to handle intradivision threats like Julio Jones, Michael Thomas and Mike Evans.

Dallas Cowboys

: Taven Bryan, DT, Florida: The Cowboys find themselves in an unenviable position. They have quite a few needs, but moving down far enough to acquire significant value might be difficult as we slide into the latter end of the first round. Rod Marinelli's defenses have thrived with the use of a dominant 3-technique tackle, which he has never really possessed in Dallas. Bryan isn't that player yet, as he's technically raw and lacks an adept feel for the game, but his physical traits and first-step quickness present a tantalizing package. The Cowboys have shown in the past that they believe in drafting talented football players, regardless if they really fill a perceived pressing need or not. The wide receivers left are nice, but I'm not seeing the strong No. 1 type that they require. Bryan allows them to build up the depth of their trench unit, with the hope that he pairs with Demarcus Lawrence and David Irving to form a formidable pass rush.

Detroit Lions

: Harold Landry, EDGE, Boston College: The Lions have struggled with  consistently rushing the passer for quite awhile now, and it's not smart to continue neglecting the defensive line when the team has a strong secondary that is left out to dry time and time again. Landry has some nasty burst and is more than flexible enough to dip underneath most tackles without effort. The athleticism is there, but the lack of both optimal height and a diverse set of moves will likely bring about his fall to No. 20. Matt Patricia and Co. will have to coach him up to unlock his potential, which I'm sure they'll do with pleasure. Pairing him with Ezekiel Ansah might finally alleviate pressure on the rest of the defense.

Cincinnati Bengals

: Frank Ragnow, C, Arkansas: The Bengals have struggled at center for a few years now, and that has to change if the team hopes to return to the playoffs. Travis Frederick, who was drafted in the first round by Dallas in 2013, showed the value of investing at the position early, and the Bengals should follow the blueprint by taking the guy from Frederick's alma mater. Ragnow has garnered late buzz as a first-round selection, but I was left wondering why that took so long after watching some his cutups against both Alabama and TCU, where he demolished dudes left and right. He's an aggressive, intelligent player who demonstrates the strength and athleticism to excel in any scenario. Whether it's at center or even guard, I don't care. All I know is that the Bengals need him to get their offensive line back on the right track.
Buffalo 

Bills

: Isaiah Wynn, G/C, Georgia: If the Bills manage to hold on to their second first-round pick in favor sacrificing other assets on Day 2 and possibly 2019 for their big trade, they'll likely do it with the intention of selecting an offensive lineman or a wide receiver. Ultimately, I feel the run on linemen is going to come fast and furious at this point, and the Bills need to protect their new rookie QB and open holes for LeSean McCoy after losing multiple starters. Wynn has a compact frame, but he's shown that he knows how to use leverage and technique to his advantage. He's often listed as a guard, but multiple experts have noted his potential as a center and I'm inclined to agree. Seeing as how the Bills could use both, this pick provides some ever-valuable flexibility.

Baltimore Ravens

(from New England): Michael Gesicki, TE, Penn State: The Ravens have spent what feels like 20 picks on tight ends, and they've all underwhelmed. When you're getting usurped by a veteran in his upper 30s (Ben Watson), you know you're not bringing much to the table. But, as they say, if at first you don't succeed, try,  try again. Selecting Gesicki certainly feels like a strong move on paper, as he sports a huge frame (6-foot-6-inches, 247 pounds) and knows to use it. He's definitely not a blocker, but that's one task a Ravens tight end currently does well (looking at you, Nick Boyle). Joe Flacco, in my opinion, has already passed his elite status expiration date, but Baltimore has to help him out more if they hope to contend with the Pittsburghs and New Englands of the world.

Seattle Seahawks

(from Carolina): Justin Reid, S, Stanford: By completing a trade with Carolina, the Seahawks would acquire sorely needed Day 2 draft capital after giving away their own in trades from last season (for left tackle Duane Brown and defensive lineman Sheldon Richardson). That alleviates some pressure, but the team is still facing a grim future with a difficult cap space situation and aging/injured veterans. With Kam Chancellor's return unfortunately in doubt due to a neck injury and Earl Thomas being the subject of trade rumors, the team needs some backup in their once-vaunted secondary. Reid, whose older brother Eric Reid was a first-rounder for San Francisco, presents an intriguing option. Justin Reid maintains a good blend of size and speed, and he's shown the propensity to play deep or in the box. Seattle needs that versatility, as he would pair with Bradley McDougald to form a solid duo. It might not carry the same impact as Thomas and Chancellor did in their heyday, but the Seahawks could do a lot worse.

Tennessee Titans

: Rashaan Evans, ILB, Alabama: The Titans seem to need pass rushers with Derrick Morgan and Brian Orakpo both coming due for new contracts. Unfortunately, the crop left at this point is slim. Unless they can swing a trade up into the early teens, I'm thinking they'll stay put or trade back. Evans would be as good of a pick as any, as he's another player that fits in the mold of new-era linebackers. He's a rangy, quick-twitch athlete who has lots of room to grow, and I'm sure new head coach Mike Vrabel (a former linebacker) would love to get his hands on a guy like Evans. It makes sense both now and for the future, as Wesley Woodyard (32) is getting older and the other spot is hardly locked up.

Atlanta Falcons

: Da'Ron Payne, DT, Alabama: The Crimson Tide sends its fourth player to the podium in Payne, who projects as an excellent compliment to Grady Jarrett. Payne is heralded as an elite run stuffer with the room to develop as a pass rusher, which will likely push him down the board. Vita Vea suffers from the same stigma, but I found his potential to be more enticing, hence the discrepancy in draft position. Either way, the Falcons find their replacement for Dontari Poe and continue their defense's upward ascent.

New Orleans Saints

: Rasheem Green, DE, USC: I've been seeing a good amount of buzz floating around Green, who currently projects as a second/third round pick. My assumption is that if he's as talented as many believe, a weak edge class could very well hoist him into the latter end of the first round. The beneficiary of this projected jump is New Orleans, which could use a solid option to eventually bookend the defensive line in tandem with Cameron Jordan. Green is 6-foot-4-inches and carries 275 pounds on his frame, so he certainly looks the part. He's toolsy, and the NFL loves toolsy. The draft routinely surprises us every year, so I feel no apprehension when predicting outside-the-box selections such as this.

Pittsburgh Steelers

: Derrius Guice, RB, LSU: This is one of the most difficult picks to predict in the draft. The Steelers, even at No. 28, still have multiple good options on the table. It seems like they could use a good inside linebacker after losing Ryan Shazier to his back injury, but all of the top options have been taken at this point. A trade back is certainly possible, but Guice presents a value that I don't think the Steelers should pass up. Le'Veon Bell is the best running back in the game, so drafting another one might seem counterproductive. However, the Steelers have experienced constant issues with him, as he's been suspended, injured and resistant to signing a long-term deal. He believes he's worth big money, and he's got an excellent case, but Pittsburgh hasn't given in and I'm not sure they will at this point. For the time being, Guice provides a vicious 1-2 punch which would likely be unmatched in the league. He's a grinder who will still give the Steelers a premier name in the backfield if Bell departs next season.

Jacksonville Jaguars

: Dallas Goedert, TE, South Dakota State: The Jaguars, after making their unexpected run to the AFC Championship game and falling mere minutes short of playing in the Super Bowl, are poised to repeat their success with a stacked roster. Quarterback, as most would argue, is a glaring question mark that the Jags seem to have answered by giving Blake Bortles a contract extension. He's definitely shown flashes, but is he consistent enough to get his team over the hump? No matter what we think on that, we all know that he could use more weapons after losing Allen Robinson, Marcedes Lewis and Allen Hurns. Goedert is a small-school prospect who has produced big results for the Jackrabbits, as he flashed a penchant for highlight-reel plays. He has the measurables to translate to the NFL, so coaching will be important to refine his route running and blocking.

Minnesota Vikings

: Mike McGlinchey, OT, Notre Dame: I truly can't believe that I have the first tackle falling down this far in the draft, but here we are. That just goes to show how unimpressed I was by most of the candidates, as the interior offensive linemen proved far more impressive in limited viewing. That said, McGlinchey showed positive flashes through inconsistent tape. I'm not sure his play strength will hold up, but he's flexible enough and sound enough in his technique to overcome that issue to a degree. He definitely fits the mold as right tackle, which Minnesota is evidently looking to add. They've considering shifting Mike Remmers to right guard, which would open that pathway. It's very possible he goes much higher than this, as team constantly overdraft tackles, but I feel like this is a comfortable spot.

New England Patriots

: Lamar Jackson, QB, Louisville: I really tried to avoid this outcome, friends, but I just couldn't find a convincing trade scenario to prevent it from happening. To quote the Mad Titan, Thanos, "Dread it. Run from it. Destiny still arrives." The Patriots have shown interest in Jackson, and he's handed to them on a silver platter in this scenario. Jackson should go higher than this, but the league balked at fellow Louisville alumnus Teddy Bridgewater a few years ago and I feel the same could happen here. That's a mistake. Jackson has premier playmaking ability with both his well-regarded feet AND his arm. He's shown flashes of making advanced throws and has demonstrated clear improvement throughout his college career. He is of slight frame, he does need work with his mechanics, and some will question if his accuracy issues are fully correctable, but sitting behind future Hall-of-Famer Tom Brady can only help him. If the future of the franchise is staring them in the face at this point, the Patriots need to fill out the card with Jackson's name.

Philadelphia Eagles

: D.J. Moore, WR, Maryland: The Super Bowl champions (still weird to read, Philly fans?) maintain a stacked roster with few immediate needs. This affords the Eagles quite a few options at the final spot of the evening. Trading down is a logical option, as is taking a running back like Sonny Michel to replace the likely-soon-to-be-gone Jay Ajayi. However, wide receiver is also in play, as GM Howie Roseman traded away Torrey Smith to the Panthers. He did sign Mike Wallace, and he provides a fine option, but at 31-years-old he's not a long-term solution. Moore has continued to gain traction as a first-round option, as teams reportedly see him as potential high-end No. 2 target. He's quick, generates yards after the catch and displays soft hands. Combining him with Alshon Jeffery and Nelson Agoholor gives quarterback Carson Wentz (once he returns from injury) a daunting trio with which he can connect.
---
That's all, folks! Before you expunge this tab from your browser, let us hold a moment of silence for the prospects who have received consistent first-round hype yet failed to make the cut.
RIP.
Notable Omissions: Kolton Miller (OT, UCLA); Connor Williams (OL, Texas); Courtland Sutton (WR, SMU); Hayden Hurst (TE, South Carolina); Maurice Hurst (DT, Michigan); James Daniels (C, Iowa); Jaire Alexander (CB, Louisville); Sony Michel (RB, Georgia); Billy Price (C, Ohio State).
To any potential haters: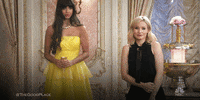 To all my loving fans: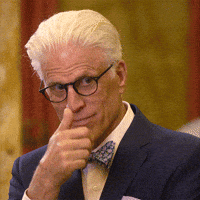 To those who don't understand these GIFs, watch "The Good Place." It's phenomenal.
Until next time, I bid you all adieu.